KRUSNE HORY (Ore Mountains) Marianska Chalets, 800 – 900 meters above sea level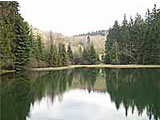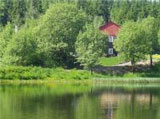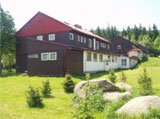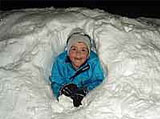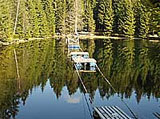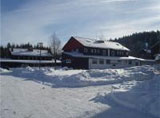 Capacity of the hostelry
Aninka - 19 beds + 2 extra beds in four apartments
U rybníka - 35 beds in single or doubleroom apartments of 3, 4 or 5 beds
Na slunicku - 66 beds in rooms from 2 to 10 beds
Equipment - look at price list
Summary - up to 122 immediate beds, over 300 contractual beds, banqueting hall for 80 persons, classrooms for 20-30 persons
Facilities available:
Winter: 4 ski tows within the distance of 100 to 700 meters from the chalets, trails for cross-country skiing, free of charge ski bus to the Bozi Dar - Neklid ski area and to the Klinovec Mount
Summer: bathing for children, cycling greenways, hiking, nature beauties and historical monuments in a close vicinity
Location
Marianska is located 22 kilometers from Karlovy Vary (Karlsbad) and 7 kilometers from the town of Bozi Dar in the Vlci hrbet saddleback (901 meters above sea level) and ridge (933 meters above sea level), amidst deep forests and mountain meadows. Such a remote location faraway from busy traffic ways offers exceptional serenity and quietness.
Here you can really relax.
Neighbourhoods
Coniferous, decideous and mixed forests with many aged trees protected as national treasure, large rock formations, plenty of unique animals and plants and veritable paradise for mushroom picking, all of these in a close neighbourhood which offers a view on the nearby Doupovske hory, Slavkovsky les, Klinovec, Neklid or Plesivec Mountains.
Sports
Hiking - from light walks around meadows and woods in a close vicinity upto more physically demanding hikes on steep hillsides and ridges, either using marked footpaths or entering virgin countryside with a map.
Cycling the Greenways - cycling a beautiful countryside on marked greenways, effortless trails on a flat mountain crests upto difficult patways on steep slopes. The speciality is a downhill track for mountain bicycles with cable-lift right on the Klinovec Mountain, easy to be reached from Marianska.
Cross country skiing - easy to be reached snowtracks, nearby biatlon area with adjusted circuits, or trips on untouched snow.
Downhill skiing - on the spot there is a ski-lift for beginners, just at the chalets there is a lift for children under construction. Some 700 metres from the Marianska there is a mountain slope with 5 downhill tracks (1 black, 3 red a 1 for children) with three lifts, artificial snow and night-skiing. After you finish skiing, you can reach chalets properly on your skis. In the village, there is a stop of free bus line to the Neklid and Klinovec ski areas.
Children
Kids can ride their sledges or bobsleights on nearby meadows or on a local bobsleight track long some 600 metres.
Bathing
In summer tourists can have a bath in the pond situated directly in Marianska (suitable especially for children) or in nearby natural pools (within 6 kilometres). In wintersmall swimming pool in the chalet, another one in Bozi Dar (7 kilometres), 10 metres long indoor swiming pool in Potucky (20 kilometres) and the Termal swimming pool in Karlovy Vary (25 kilometres). Both in summer and winter there are two indoor aquaparks with thermal water in Germany (both within 50 kilometres)
Accommodation
2 suites with 8 beds, toilet, shower, TV-set, Internet. Modified for disabled clients. 8 apartments from 2 to 5 beds, toilet, ...
3 suites with 6 beds, toilet, shower, kitchenette, TV-set and Internet. 4 apartments from 3 to 6 beds, ...
Cheap accommodation of the "hostel" type with communal bathrooms and rooms for 2 - 10 persons.
Boarding
Half-board on the spot. On agreement possible also full-board. Meal plans for children or special meal plans.
Parking
Right at the chalets in garages (limited number of places) or in the open air, parking for a bus.
Facilities
Safe-deposit, sauna, indoor swimming pool 2 x 3 metres, banqueting hall (14 x 6 metres, can be used like a gym), social rooms, baby corner, ping - pong, bar, disposal site for ski and bicycles, washing bicycles, 3 sportgrounds for mini-football and voleyball
Other nearly facilities - climber wall, 2 shooting-range, biatlon area, tennis-court, rental office (bikes, tennis rackets, rafts)
Special programs:
On demand we are able to offer following special programs.:
Relaxing stays for schools, skiing training courses for schools, bus tours for sight-seeings, culture, sports or amusement, trips with instructors – ski, cycling, hiking, horse tracks, hunting expeditions and hunt balls, language courses, TeamBuilding programs, sport contests and tournaments (from mini-football to cross country races, shooting and chess), meetings of special-interest groups, festivities, bashes